10 Jan

Games Composition: Jack B. Nimble Pt.1

Jump in the shoes of Jack B. Nimble and master the whip in this Game Boy styled autorunner. Leap and dash across spooky hilltops, whipping candles as you go. Use tall grass to slow down and stay in control of the action, but remember to watch out for trees! With a score system based on player accuracy and distance travelled, timing and skill are key to achieving a position atop the scoreboard.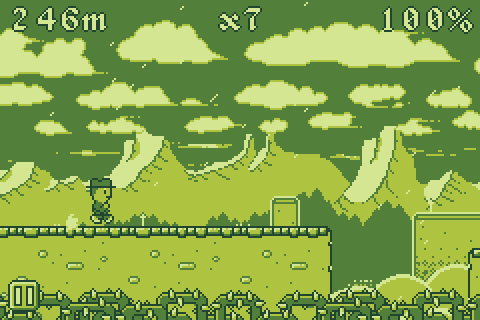 Jack B. Nimble started life as a project created for the GBJam Game Jam, made by game developer and friend of Cutscene Sean Noonan (Star Citizen, Watch_Dogs, Far Cry). The brief of GB Jam is simple enough; create a game in the style of Nitendo's 8-bit handheld, the Game Boy. Sean chose to make an autorunner inspired by the platform games of that era. Since our inital game jam entry, the game has been fleshed out greatly, released on iOS and has a huge forthcoming update.
The Composition Process
When I set out to create the first pieces of music, Jack B. Nimble only had one stage; Viridescent Verge and I knew I wanted to write three pieces which would help to ramp up intensity as the speed of the game increased. I had an idea about a change in music being a small reward for how far you got in the stage. This is something that's stuck with me from old NES games, particularly Mega Man and Castlevania. You spend so long on certain stages that when you finally finish it and get to a new one, the change in scenery and change in music all help to affirm your mini victory.
I love 8-bit composition and chiptune in general but I'm by no means a hardware expert. I love hearing people make bleeps and bloops with a real live Game Boy but I sometimes feel like the magic of classic 8-bit can get bogged down in the flashiness of chiptune. I also knew that for the sake of a game jam timeframe, I couldn't go 100% authentic, so neither a tracker nor a soldering iron was going to be feesible this time.
I decided limitation of sound palette was key to creating something faithful to the brief so for most of the soundtrack I stuck to a percussion track, a bass track, lead track and two additional melody / harmony tracks. I feel like you're pushing against the technology if you set yourself some limitations rather than just dialling in any sound you like. I imagine it was 1000 times more of a struggle for anyone composing on Game Boy / NES at the time though! My synth of choice for the Jack B. Nimble soundtrack is Sam's Chip32 VST, a free, 8-bit/32byte, wavetable synthesiser which I found to be very versatile for crafting both lead and bass sounds. Other honourable mentions include Tweakbench's excellent and free collection of 8-bit VST's and the SID packs for REFX's Nexus Rom synthesizer.
You can listen to the constituent parts of the original Viridescent Verge soundtrack below as well as the complete track.
You'll notice throughout the Jack B Nimble soundtrack, the tempos all float around the same range of 140-150 BPM. I'd experimented with slower paced tracks but when writing for an autorunner, I feel you need to always be complementary to the pace. The 16th pattern hi-hats, you'll also note are a recurring feature throughout for the very same reason. Musically, part 1 and 2 are heavily influenced by early Castlevania music, particularly the music of Akumajou Densetsu, the Japanese counterpart of Castlevania III – Dracula's Curse which utilises Nintendo's VRC6 audio processing chip. In musical terms this basically means a lot of diminished chords and scales and in non musical terms this basically means bats, vampires, skeletons and all things spooky.
Due to the tracks looping a few times, I tend to divide the actual musical content accross repeats. For example in part 2, the first time round, the full sequence is really only exposing the harmony and parts of the melody whereas on the repeat, the full melody enters.
By the time player reaches parts 2 and 3, the pace of the game has increased dramatically and so the audio follows suit. In effect, I wanted to make the game even harder by making the music exciting enough to cause distraction. For this reason, part 3 has an almost thrash feel to it, it may sound faster but it isn't. A 6/4 bar with the snare on 2, 4 and 6 provides a fairly heavy drum track paired with descending melody patterns that I hoped would come off as reminiscent of organ music. The 'chorus' in part 3 was intended to be the final musical reward and a sort of book end to the whole, small package. Reverting to 4/4 and changing to a half time feel give the track a bit of a victorious feel to me and in keeping with the musical bookending, the melody line of this 'chorus' in part 3 is actually the same melody line as the Jack B. Nimble theme used on the title screen.
In part 2 I'll be looking at some of the music I composed for the iOS build as well as a few of the tracks that have yet to be released. If you'd like to play Jack B. Nimble in the mean time, you can purchase it on The App Store or for more information please visit the Jack B. Nimble website.
Production Details
Produced – Ongoing
DAW – Cubase Pro 8
Genre – Endless Runner / Platformer
Game Engine – Construct 2
For more information on our full range of audio services including composition and sound design for games, please visit our audio page.